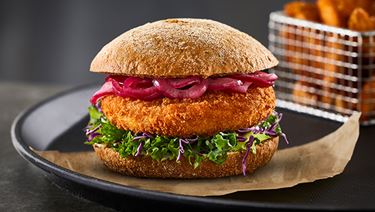 Crispy Honey Mustard Burger
Crispy coated cheese burger with red pickled onions, honey mustard mayonnaise, topped with kale and red cabbage salad.
Method

Prepare the Arla Pro Crispy Coated Cheese Patties according to package instructions. Meanwhile cut the burger buns through and warm them in the oven at 200°C for 3 min. Spread the bottom halves of the buns with honey mustard mayonnaise and top with the crispy lettuce and mixed finely cut kale and red cabbage. Top with the warm Arla Pro Crispy Coated Cheese Patty and follow with a topping of pickled red onions. Spread the top halves with honey and mustard mayonnaise and close the burgers. Serve immediately.

Honey and mustard mayonnaise

Mix all the ingredients well together. Add salt and pepper to taste.

Red pickled onions

Bring the wine, water, apple cider vinegar and sugar to a boil in a saucepan. Add the onions and remove the saucepan from the heat. Let the onions cool completely before serving.