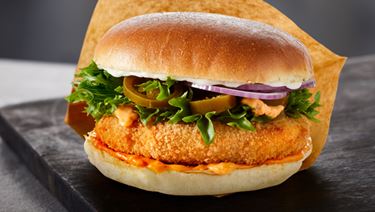 Crispy and spicy Burger
Crispy Coated Cheese Burger with spicy and smoky mayonnaise, jalapeños, red onion and crispy garden lettuce.
Method

Prepare the Crispy Coated Cheese Patties according to package instructions. Toast the bun halves until golden on the inside surface. Spread the chipotle mayonnaise on the bottom halves of the brioche. Place the warm Arla Pro Crispy Coated Cheese Patty on the buns, followed by a little more chipotle mayonnaise, crispy lettuce, jalapeños, and red onion rings. Spread the mayonnaise on the top halves of the brioche and close the burgers.