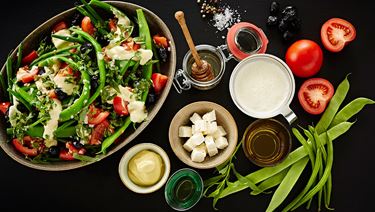 Bean salad with olives, shallots, tomato, tarragon and cheese cream
The flat bean originates from the region south of the Caspian Sea and is closely related to the broad bean. Flat beans are tougher than French beans. They have tougher fibres and pods, and so they are generally cut into pieces before cooking. They are good in soups, casseroles and stews.
Remove the ends of the beans and rinse in cold water. Bring some water and salt to a boil in a large pot and blanch the beans for 3-4 min. until they're tender, but still quite firm. Plunge the beans straight into a bowl of cold water to immediately stop the cooking process. Then drain the beans and let them drip dry completely. Combine the beans with the tomatoes and onions in a large serving dish.

Cheese cream

Place the cream and salad cheese in a mini-chopper and chop until smooth and creamy. Whisk together the mustard, honey, vinegar, oil, salt and pepper, then fold in the cheese cream. Season to taste, then pour over the vegetables. Sprinkle with olives and tarragon.

To serve

As a part of salad buffet.