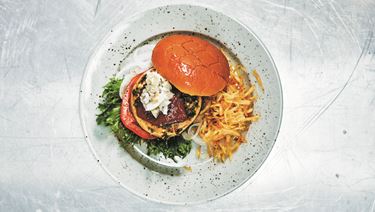 BBQ Burger with crispy potatoes
Grilling Cheese:

Mix olive oil with chopped chives, chilli flakes and black pepper. Sauté the slices on both sides and then brush with the mixture. Serve immediately.

Smokey BBQ sauce:

Grate the garlic and mix everything in a saucepan. Simmer gently for approx. 30 minutes. Add salt and freshly ground pepper to taste.

Pickled mix:

Cube the gherkins and white onion finely. Stir into the other ingredients.

Crispy potatoes:

Peel the potatoes and grate coarsely. Allow to drain on kitchen paper. Deep fry at 180 °C until the grated potato is crispy. Drain on kitchen paper and add salt.

Serving suggestion:

Take a toasted hamburger bun. Bottom layer: Crispy lettuce and freshly sliced white onion rings. Add one slice of beef tomato. Brush Grilling Cheese with BBQ sauce and place it on top. Top with pickled gherkin and crispy potato. Enjoy immediately.