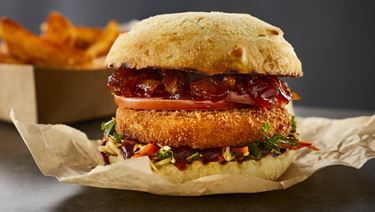 Barbecue Burger
Crispy coated cheese burger with caramelised onions and barbecue sauce.
Method

Toss the grated carrot, grated cabbage, chopped parsley, olive oil and vinegar well together in a bowl. Season with salt and pepper. Prepare the Arla Pro Crispy Coated Cheese Patties according to package instructions. Grill all the burger bun halves on a grill until you have grill marks. Top the bottom halves with barbecue sauce, followed by coleslaw. Place the warm Arla Pro Crispy Coated Cheese Patty on top and then tomato slices. Add two tablespoons of caramelised onion. Close the burger with the top halves of the buns.

Caramelised onion

Cut the onions into medium dice. Melt the sugar and butter in a heavy based saucepan. Add the diced onion and let them caramelise slightly in the sugar and butter. Add the vinegar and let take more colour while gently simmering and reducing to a sticky compote. Remove from the heat when the consistency is right and the liquid reduced. Let cool to room temperature before serving.