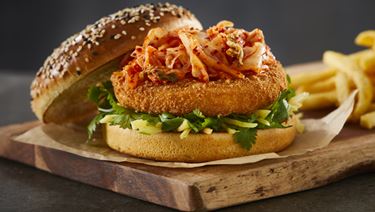 Asian Style Burger
Crispy coated cheese burger with kimchi salad and green mango.
Method

Warm the sesame seed buns on a hotplate at medium heat Prepare the Arla Pro Crispy Coated Cheese Patties according to package instructions. Spread the bottom halves of the sesame buns with miso mayonnaise and top with the baby greens, coriander and green mango julienne. Add the Arla Pro Crispy Coated Cheese Patty and then the kimchi. Close with the top half buns spread with the remainder of the miso mayonnaise.

Miso mayonnaise

Mix all the ingredients well together to combine.