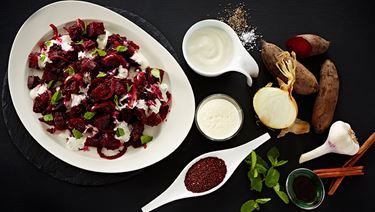 Baked beetroot salad with quinoa and mint cream
This salad is bursting with energy and beautiful colours. Beetroot, cherry vinegar and onions are baked then combined with the nutty quinoa, which practically pops in your mouth. The dish is held together with a creamy dressing made from organic cream, junket and mint. A delightful new salad interpretation for the cold winter months.
Place the beetroot in a roasting tin and combine with the onion, garlic, oil, vinegar, salt and pepper. Mix well to make sure everything is completely coated, then cover the tin. Bake in the oven at 175°C for approx. 45 min. or until the beetroot is tender. Let the beetroot cool for a few minutes, then stir in the quinoa to soak up the beetroot juice and marinade. Season to taste with salt and pepper and possibly a little extra vinegar. Meanwhile, cook the red quinoa in salted water with cinnamon and garlic. Drain off the water and let the quinoa cool. Whip the cream and combine with A-38, chopped mint leaves, salt and pepper. Arrange the salad in a dish. Drizzle with the mint cream and garnish with fresh mint. Can be served with brined duck legs. Pick off the meat in large pieces and integrate into the salad.